The 2018 ComicCon Montreal is over!
The ComicCon Montreal lasted from Friday to Sunday, and as each year for the last 10 years, Montreal was taken over by comic book fans.
Hordes of fantasy heroes from Comic books, video games or SciFi swarmed the downtown Palais des Congres de Montreal.
During all 3 days the party was on with tens of thousands of attendees buzzing around the exhibition floor.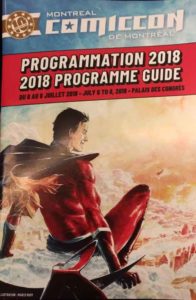 Many very interesting conferences and events made that convention one of the best:
Celebrity Q&A.
Medieval combat.
OVMF Concerts.
The table game area
An much more
We would like to thank everyone who visited our booth during the convention and to congratulate all the cosplayers who attended.
Just to name a few cosplays among the most popular this year:
Harley Quinn (the most popular by a land slide).
Spider-Man
Poison Ivy.
Disney princesses.
Storm Trooper.
Darth Vader.
Boba Fett.
Once again, the Comics community showed that they know how to party!
The convention floor was packed with Comic book stores, geek toys and gadgets, apparel and many more Comic book related items.
For those of you who live in Montreal, do not hesitate to visit our Montreal Comic Book Store for more collector comics and comics related collectibles.